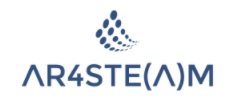 Erasmus Plus project AR4STE (A) M

AEDE, the Erasmus Plus project AR4STE (A) M partner, is pleased to share its results with you and cordially invites you to disseminate them among your members and collaborators.
The AR4STE (A) M project is designed to facilitate the work of teachers, providing them with knowledge and skills to use Augmented Reality for didactic purposes. The AR4STE (A) M project also aims to make learners aware of the importance of choosing STE (A) M studies to pursue successful STE (A) M careers.
Besides theoretical information, the project site leads to the registration in the online training course which will start soon and will strengthen the capacity to effectively teach STE (A) M, by the creation of engaging approaches, based on the technologies of TICE since, through gamification strategies, scientific content can be made more accessible is in a more attractive way for students.
Silvano Marseglia
President of AEDE