European Association of Teachers of Serbia (EATS) was founded on February 28th, 2014 on a founding assembly held on the premises of the Sixth Belgrade Grammar School.  EATS is the first professional association under the wings of AEDE (Association Européenne des Enseignants), that gathers all national sections of all European countries.
More than 30 colleagues and enthusiasts from Belgrade, and other cities in Serbia – Niš, Šabac, Novi Sad, Požega supported the Memorandum of Association, as well as the Statute of the Association that inteds to introduce European heritage into national education system, but also give the opportunity to our colleagues and students to follow the trends of education in Europe.
Goals of the European Association of Teachers of Serbia are:
Promotion of the European idea and the need of European integration in the sphere of education;
Strengthening the partnerships and cooperation among the EU education institutions and institutions of Republic of Serbia;
Improving the education system of Republic of Serbia with promoting and application of the positive examples of education practice coming from national and European level;
Organizing professional, scientific gatherings, congresses, national and international conferences with an aim to exchange experience and promote European ideas and standards in the field of education;
Joining international partnership projects and their realization;
Popularizing foreign language learning and meeting other cultures through student and teacher exchange;
Exchange of experience and information on different education systems on European continent;
Raising awareness on principles and mutual goals of European culture lest both adults and youth could live together in democratic and multicultural society;
Raising awareness on just social and cultural politics to strengthen the public interest for the EU;
Introduction to the functioning mechanisms of the EU's institutions and structures;
Promoting the idea of equality in Europe regardless of gender, ethnic origin, social and cultural background;
Discovering the methods to induce the initiative acceptable to all respecting unity in diversity;
Raising awareness about the common interest in the active role of the young for realizing mutual goals starting from local, national, European and global significance in education system;
Application and improvement of ICT in education.
Those listed above will be promoted through seminars, projects, international cooperation and other forms of exchange with colleagues from European countries.
Mr.Rade Zejak, principal of the Sixth Belgrade Grammar School, was elected President of the EATS as the initiator of the idea stemming from successful contacts with the president of AEDE Mr.Silvano Marseglia.
Daily experience and needs point to close cooperation with European institutions and this is an opportunity not to be missed for the sake of the future of our education.
Colleagues present at the Assembly offered many positive and constructive suggestions for the beginning of the EATS' work, and members commited to promote the idea in their region.
---
---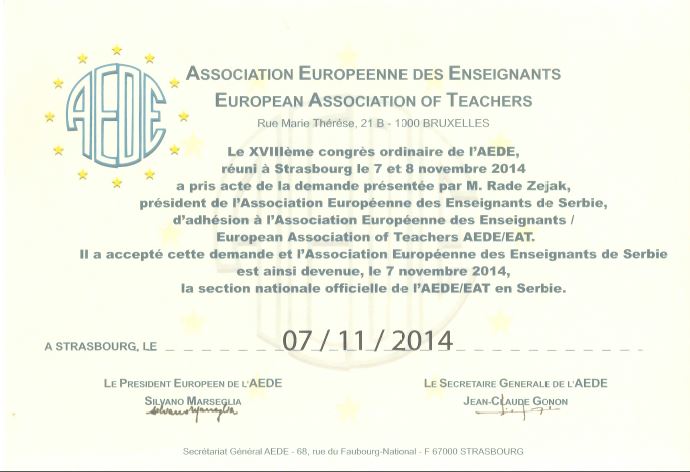 ---
---
---